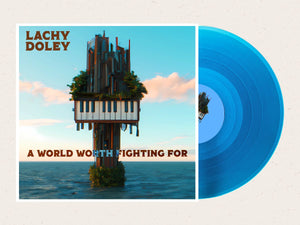 LImited Edition BLUE VINYL - A World Worth Fighting For
Regular price $41.00 Sale
My 6th original studio album. A World Worth Fighting For.
1: A World Worth Fighting For 
With the effects of Climate Change becoming more real than ever and now having a son of my own, it feels hard to be optomistic about what kind of world we are leaving our kids. Introduced with a foreboding verse which leads to the chorus and uplifts with a message of all the wonderful things we do have to live for. Featuring a rainbow of vintage keyboards, slick horns and soulful female backing vocals creating a heartfelt call to slow climate change from Lachy's desperate vocal 
2. These Words 
A whammy clavinet melodic odyssey of a heart that's slowly breaking from a love that's slowly moving slipping away 
3. Get Out Your Ear's Way (feat. Boosty Collins) (#1 Amrap Charts) 
I still can't believe Bootsy sang on this track with me. He is one of my biggest musical heroes. As a teen in Adelaide I'd catch the bus to the city every day to Big Star records to find any album I possibly could with Bootsy on it. Whether it was James 
Brown, Parliament, Funkadelic or Booty's Rubberband Band, even Dee-Lite. This is one of my proudest musical moments. Hope you enjoy this super funky track about opening your ears and freeing your mind 
4. Don't Beat Yourself Up 
A chilled and feel good groove about cutting yourself some slack and realising that we're only human. 
5. Gone 
Based on the tragic story of Hammond Organ, Keyboard hero, Keith Emerson and his struggle with various health conditions hindering his abilities to play and ultimately leading to his suicide 
6. My Own Medicine 
A far more upbeat and light hearted piano based 70's rock pop song about getting a taste of your own medicine in love 
7. Money 
A wake up call to me and others about putting greed, success and status before the people in your life who really matter 
8. A World Worth Fighting For (Extended Version) 
This version has an extended and beautiful psychedelic jam out section to bring the message home